Study on open-plan offices inspires art project
---
A research paper about gender dynamics in open-plan offices has inspired an international art installation.
Research by Dr Alison Hirst (pictured) of Anglia Ruskin University (ARU), and Dr Christina Schwabenland, of the University of Bedfordshire, found that workers, particularly women, changed their behaviour and how they dress because of their constant visibility in open-plan offices.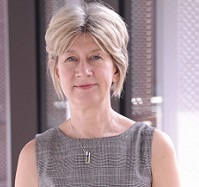 The research has now been interpreted by artist Sondra Perry in a project called A Terrible Thing, a video installation project that is currently on display at Kunsthal Aarhus, Denmark, after initially being commissioned by the Museum of Contemporary Art Cleveland (moCa), Ohio, USA.
The work describes the "detailed narrative description of the labour and environment behind the production of exhibitions, and the circumstances and changes that surround urban development projects".
Dr Hirst, Director of Research Students within the Faculty of Business and Law at ARU, said: "A Terrible Thing is a haunting and unsettling piece of work. It unpeels the layers of history that lie underneath the spaces we occupy each day, including the most mundane office buildings.
"We are extremely flattered that Sondra Perry has been inspired by our research and her interpretation really brings the concepts that we examined to life."
Dr Schwabenland, Reader in Strategy and Human Resource Management at the University of Bedfordshire, added: "We were so excited to see how our article was interpreted by Sondra and transformed into this very exciting art work. This is an amazing example of the impact of research!"
Students from more than 185 countries study with us. Our students are at the heart of our University: their educational experience engages, challenges and empowers them to reach their full potential.
Anglia Ruskin University (ARU)